PROPERTIES
Bast fibres such as linen, which is the most costly and luxurious within this category, are valued for their exceptional coolness and freshness in hot weather. It is such a desirable commodity that textiles in a linen-weave texture, even when made of nettles, hemp, jute, kenaf, bamboo and other non-flax fibers are also often loosely referred to as "linen". Bast fibres tend to have good tensile strength which increases when wet. They are hygroscopic, absorbing up to 20% of their weight in moisture or perspiration, which it quickly releases into the atmosphere and is therefore dry to the touch allowing the wearer to feel cool. This is because it does not lock in or trap air and does not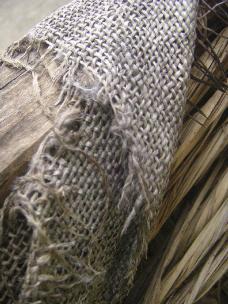 have any insulative properties. The slight stiffness of many of these fibres prevent textiles made from them it from clinging to the body, tending to billow away and thus drying more quickly and eliminating perspiration, it is this thermo regulating aspect encourages the body to acclimatise in hot environments.
Linen and other bast fibres generally have a longer staple length relative to cotton, which makes them lint free. These fibres tend to have high durability and their qualities improve with age and laundering. Linen itself it becomes softer, stronger and brighter over time. It is also believed to be unharmed by germs as well as resisting humidity.
The natural absorption properties within bast fibres means that it is also able to absorb a good depth of colour in the dyeing process and remains more colourfast for a longer period. The slubs along the length of the yarn are sometimes considered a characteristic of linen, which are often present in other bast fibres, but are technically a defect that denotes a lesser quality of fabric.